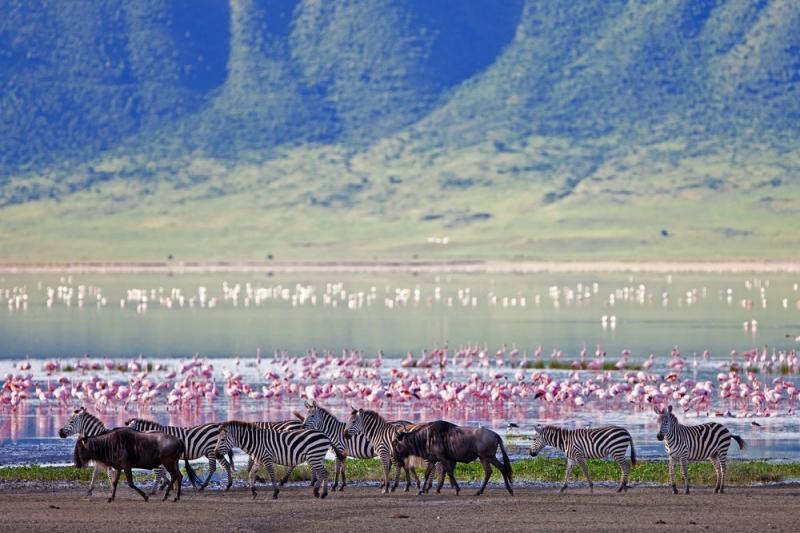 Birding Site
Ngorongoro
Ngorongoro Crater, extinct volcanic caldera in the Eastern (Great) Rift Valley, northern Tanzania. It lies 75 miles (120 km) west of the town of Arusha. The caldera measures between 10 and 12 miles (16 and 19 km) across and has an area of 102 square miles (264 square km). Its heavily forested rim rises 2,000 feet (610 metres) above the caldera's floor to an elevation of 7,500 feet (2,286 metres). Ngorongoro is thought to have formed about 2.5 million years ago from a large active volcano whose cone collapsed inward after a major eruption, leaving the present vast, unbroken caldera as its chief remnant.
The caldera's floor is predominantly open grassland. It is home to a diverse array of animals including elephants, black rhinoceroses, leopards, buffalo, zebras, warthogs, gnu (wildebeests), Grant's and Thomson's gazelles, and the densest population of lions in the world. The local Masai people also graze their livestock in the crater. Lake Magadi, a shallow soda lake ringed by extinct volcanoes, is renowned as a habitat for great flocks of pink flamingos.
Large numbers of tourists began visiting the caldera in the 1930s, when a lodge was built on its rim. Since the region's incorporation into the Ngorongoro Conservation Area in 1959, additional lodges have been built. The caldera is included within a UNESCO World Heritage site designated in 1979.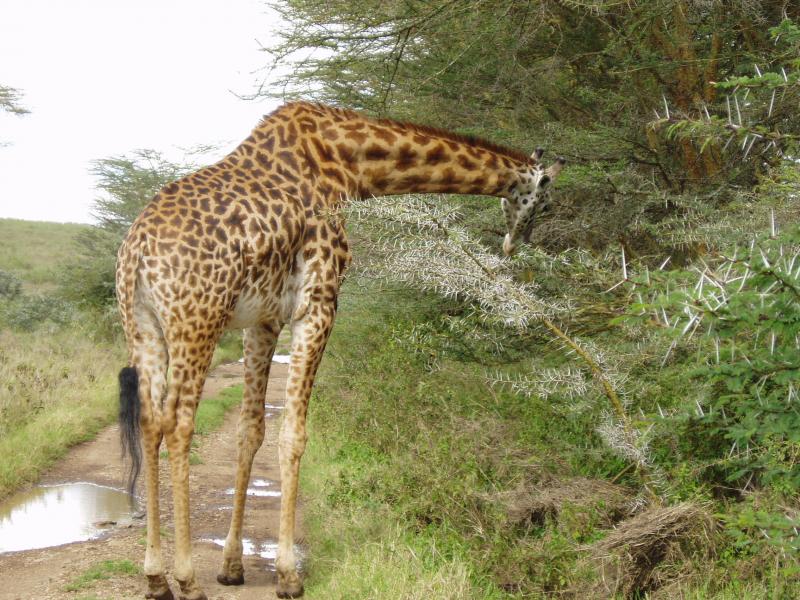 National Park
Nairobi National Park
"The World's Wildlife Capital"
A short drive out of Nairobi's central business district is the Nairobi National Park. Wide open grass plains and backdrop of the city scrapers, scattered acacia bush play host to a wide variety of wildlife including the endangered black rhino, lions, leopards, cheetahs, hyenas, buffaloes, giraffes and diverse birdlife with over 400 species recorded. Visitors can enjoy the park's picnic sites, three campsites and the walking trails for hikers.
Key features
Wildlife
Animals include buffalo, giraffe, lion, leopard, baboon, zebra, wildebeest and cheetah---100 mammal species.
400 migratory and endemic bird species.
Picnic Facilities
For corporate events, bush dinners, weddings, picnics, team building sessions, video and film production
Mokoyiet,
King Fisher
historic ivory burning site
Impala
Attractions
The only Wildlife park in the world that is so close to the city
Black rhinoceros :which is an endangered species
The first park to be gazetted in Kenya on December 16, 1946
Major rhino sanctuary for breeding and restocking other parks
Diverse birdlife:Has over 400 bird species. At least 20 of which are seasonal European migrants.
Home to over 100 mammal species, four of the Big Five (lion, Buffalo, leopard and rhino)
Has a spectacular wildebeest and zebra migration
Large predators- lion, leopard, hyena and cheetah.
Aggregations of large herbivores- eland, buffalo, zebra and wildebeest
Ivory Burning Site Monument
Walking trails at hippo pools
Nairobi Safari Walk & the Orphanage.
Spacious accommodating picnic sites
Park Fees
Nairobi National Park

Citizen

Resident

Non-Resident

Adults

KSH

Child

KSH

Adults

KSH

Child

KSH

Adults

USD

Child

USD

430

215

1,030

515

43

22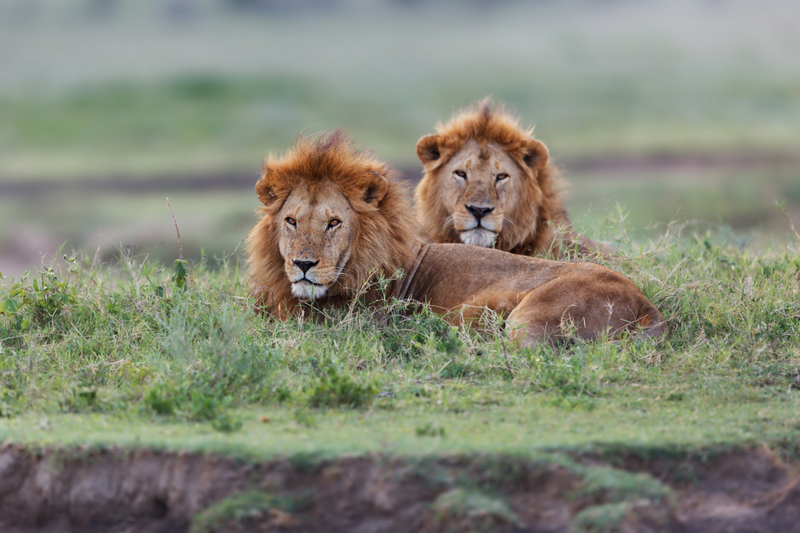 Birding Site
Aberdare National Park
"The Majestic Moorland"
Picturesque, steep forested ravines and open moorland characterise the Aberdare National Park. The park provides a habitat for elephants, black rhinos, leopards, spotted hyenas, olive baboons, black and white colobus monkeys, buffalos, warthogs and bushbucks among others. Rare sightings include those of the Giant Forest hog, bongo, golden cat, serval cat, African wild cat, African civet cat and the blue duiker. Visitors can indulge in picnics, trout fishing in the rivers and camping in the moorlands. Bird viewing is rewarding, with over 250 species of birds in the park, including the Jackson's Francolin, Sparrow hawks, goshawks, eagles, sunbirds and plovers.
Attractions
Game animals easily seen in the park during game viewing include; African Elephant, black rhino, leopard, spotted hyena, olive baboon, black and white colobus monkey, sykes monkey, cape buffalo, warthog, common zebra (North Aberdare), bushbuck, reedbuck. Rare sightings include those of Giant Forest hog, bongo, golden cat, serval cat, African wild cat, African civet cat, blue duiker.
Very beautiful sceneries of Aberdare include magnificent waterfalls with the main ones being Karuru waterfalls which fall in three steps, 1st step 117M, 2nd step 26M and 3rd 130M, making a total of 273M, Chania waterfalls and may other smaller ones.
Adding to the beauty of Aberdare are many ridges and river valleys which attract mountain scenery photographers.
A recent marked attraction in Aberdare is the 400Kms electric fence which was completed – final post on 28th August, 2009. The fence protects the whole Aberdare ecosystem from human pressures and contains wildlife, preventing human/wildlife conflict.
Visitors can also indulge in picnics, trout fishing (in the past the rivers were stocked with brown rainbow trout) in the rivers and camping in the Moorlands. Bird viewing is rewarding with about 290 recorded bird species, including the Aberdare Cisticola that is critically endangered and the Jackson's francolin, which is regionally endemic, sparry hawk, goshawks, eagles, sunbirds and plovers
Park Fees
Aberdare National Park

Citizen

Resident

Non-Resident

Adults

KSH

Child

KSH

Adults

KSH

Child

KSH

Adults

USD

Child

USD

300

215

1,030

515

52

26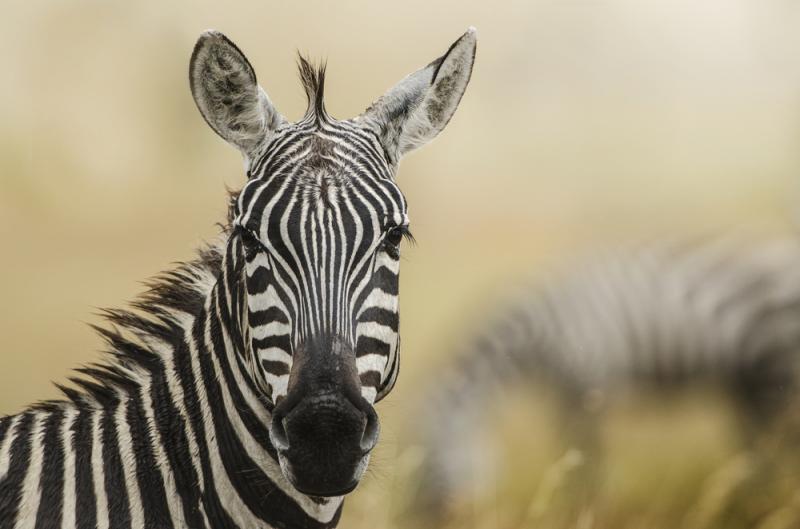 National Park
Serengeti National Park
The Serengeti National Park is a Tanzanian national park in the Serengeti ecosystem in the Mara and Simiyu regions. It is famous for its annual migration of over 1.5 million white-bearded (or brindled) wildebeest and 250,000 zebra and for its numerous Nile crocodile and honey badger.
History
The Maasai people had been grazing their livestock in the open plains of eastern Mara Region, which they named "endless plains," for around 200 years when the first European explorer, Austrian Oscar Baumann, visited the area in 1892.The name "Serengeti" is an approximation of the word used by the Maasai to describe the area, siringet, which means "the place where the land runs on forever".
The park is Tanzania's oldest national park and remains the flagship of the country's tourism industry, providing a major draw to the Northern Safari Circuit encompassing Lake Manyara National Park, Tarangire National Park, Arusha National Park and the Ngorongoro Conservation Area. It has over 2,500 lions and more than 1 million wildebeest.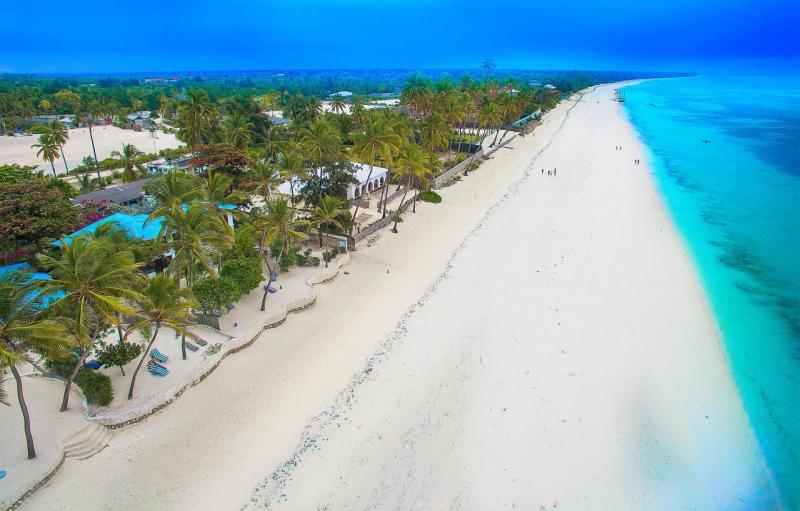 Beach
Zanzibar Island
Zanzibar is an archipelago made up of Zanzibar and Pemba Islands, and several islets. It is located in the Indian Ocean, about 25 miles from the Tanzanian coast, and 6° south of the equator. Zanzibar Island (known locally as Unguja, but as Zanzibar internationally) is 60 miles long and 20 miles wide, occupying a total area of approximately 650 square miles. It is characterised by beautiful sandy beaches with fringing coral reefs, and the magic of historic Stone Town – said to be the only functioning ancient town in East Africa.
Wildlife
There are no large wild animals in Zanzibar, and forest areas such as Jozani are inhabited by monkeys, bush-pigs and small antelopes. Civets – and rumour has it, the elusive Zanzibar leopard! Various species of mongoose can also be found on the island. There is a wide variety of birdlife, and a large number of butterflies in rural areas. The coral reefs that surround the East Coast are rich in marine diversity, and make Zanzibar an ideal location for snorkelling and scuba diving.
People, Religion and Language
Zanzibar's local people are an incredible mixture of ethnic backgrounds, indicative of her colourful history. Islam is the dominant religion, and practiced by most Zanzibaris, although there are also followers of Christianity and Hinduism. Population is estimated at 800,000, with the largest concentration being Zanzibar City which has approximately 100,000 inhabitants. Zanzibaris speak Swahili (known locally as Kiswahili), a language which is spoken extensively in East Africa. Many believe that the purest form is spoken in Zanzibar as it is the birth place of the language.
Culture and Festivals
Zanzibar's most famous event is the Zanzibar International Film Festival, also known as the Festival of the Dhow Countries. Every July, this event showcases the best of the Swahili Coast arts scene, including Zanzibar's favourite music, Taarab.
Government
Zanzibar is an island state within the United Republic of Tanzania, and has its own semi-autonomous government made up of a Revolutionary Council and House of Representatives. The present government is led by the island's President, Amani Karume. The government body responsible for tourism promotion is the Zanzibar Commission for Tourism.
Economy
Fishing and agriculture are the main economic activities of the local people. Zanzibar was once the world's largest producer of cloves, and her economy was based on large incomes thus derived. Although cloves are still a major export along with coconut products and spices, tourism has been ear-marked as the primary foreign exchange earner, with more visitors coming to Zanzibar each year. At this stage, the numbers are still low (less than 100,000 annually) and the potential for tourism is relatively untapped. Zanzibar's tourism private sector is represented by the Zanzibar Association of Tourism Investors (ZATI).
Zanzibar.NET is dedicated to sensitive tourism that benefits both visitors and the community, without losing the romance and magic that is Zanzibar.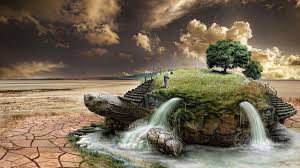 Animal Orphanage
Test Attraction
Description: This amazing 3 day Tour will take you through Serengeti National Park, and Ngorongoro Crater where you will have an opportunity to spot the Big Five and experience Africa up close. Tanzania is home to a wide variety of wildlife and spectacular scenic views.
African Heritage House
African Heritage House
The African Heritage House overlooking the Nairobi National Park is described by the prestigious Architectural Digest as "an architecture rising from the serene Kenyan plain like an outcropping of earth, a vision of usefulness informed by the African genius for decoration."
Designed by American Alan Donovan, co-founder of the African Heritage Pan African Galleries, the house is a combination of the mud architectures from across Africa. Visits may be arranged to the house through travel agencies, hotels, or contact us here.
The house is available for tours, meals (breakfast, lunch, and dinners on the rooftop or by the refreshing pool), conferences/functions, as well as overnight stays in its luxurious rooms, filled with African art and furnishings with modern appointments
Bomas of Kenya
This centre has packed Kenya and offers it in a miniature. Just ten minutes drive from the city centre, Bomas lets you see the wonderful diversity of cultures that make up this country. It is a display of different aspects of Kenyan culture, including lifestyles, crafts, music and dancing.
Bombolulu Workshops and Cultural Centre
A fine exhibition of art and craft, this community project comprises of workshops and a cultural centre with different traditional homesteads of Kenyas diverse tribes. Famous for its trademark Bombolulu recycled materials design pieces, the centre produces thousands of different items of jewellery, wood, leather and soft furnishings.
Crater Lake Game Sanctuary
The beautiful volcanic lake is the small Crater Lake Game Sanctuary. It has many trails including one for hikers along the steep but diminutive crater rim. Besides the impressive bird species recorded here, giraffes, zebras and other plains wildlife are also regular residents.
Crescent Island Game Sanctuary
This is one of the most beautiful sanctuaries in Kenya and Naivashas best kept secret. It is private, secure and patrolled by guides who can accompany anyone who wishes for a guided tour. The shores host abundant wildlife including wildebeest, waterbuck, zebra and gazelle and hippos.
Crying stone of IIhesi
The Crying Stone is about 40m high with a small rock perched on top, revealing a unique formation of a wailing human being. It is an acid plutonic rock consisting of quarts, alkali, feldspar and mica. It now serves as a shrine and cultural site to the local community.
---